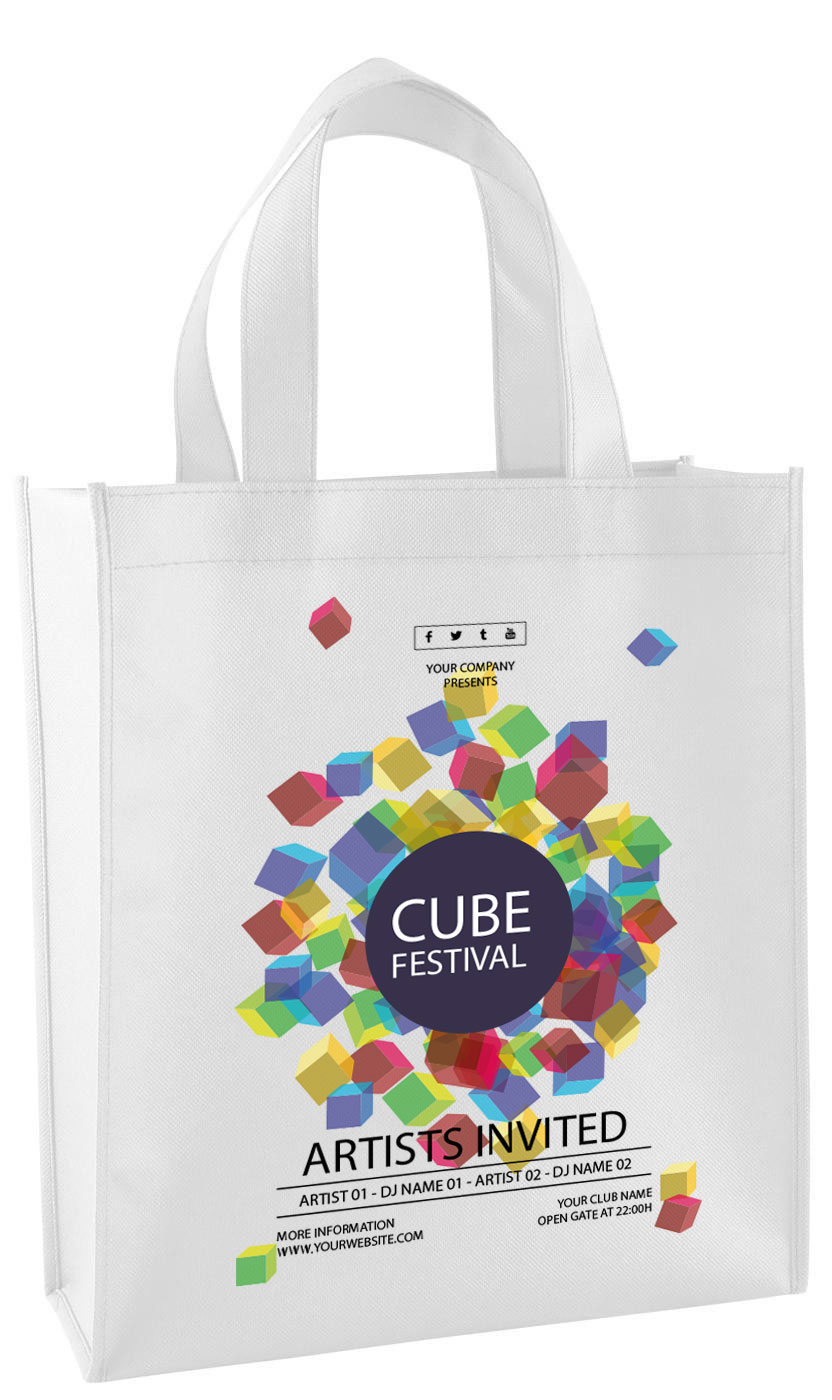 SPECIFICATIONS
| | |
| --- | --- |
|  Print | Full Color (A4) |
|  Size | 13″x10″ & 15″x15″ |
|  Thickness | 100Gsm |
NON-WOVEN BAG PRINTING
The sublimation non woven bag, can be printed pattern both sides, eco-friendly, convenient and practical, also be a good choice for the sales promotion.
Non woven PP are inexpensive and offer exceptional quality.
It give an advantage of strength whilst being lightweight, which makes them the ideal packaging solution for many different products.
Logo imprint also available for advertisement purpose.
They are perfect for shopping , promotions, exhibitions and re-sale.
Non woven bags are Environmentally Friendly as they are 100% Recycled and Biodegradable.
PRODUCT INFORMATION
Non-woven fabric is a fabric-like material made from long fibers, bonded together by chemical, mechanical, heat or solvent treatment. The term is used in the textile manufacturing industry to denote fabrics, such as felt, which are neither woven nor knitted.
Non-woven materials typically lack strength unless densified or reinforced by a backing. In recent years, non-wovens have become an alternative to polyurethane foam and it's widely used for printing as non-woven bag.
SILKSCREEN PRINTING SPECIFICATIONS
 Printing Type
Silkscreen
 Material
Non-woven
 Thickness
85Gsm
 Ready-made Sizes
11″(W) x 13″(H) x 3″(D)
11″(W) x 15″(H)
14″(W) x 14″(H) x 4″(D)
16.5″(W) x 12.5″(H) x 4″(D)
Custom Size upon request (MOQ 500pcs)
 Finishing
Ultrasonic
SILKSCREEN AVAILABLE BAG COLOR
AFFORDABLE
Personalised product at promotional price.
CUSTOMISATION
Can customise to any size of your choice.
QUALITY PRINT
Sublimation transfer with 90% rate.
PRINT LOCALLY
Right equipments to support local market.
FAST DELIVERY
Standard delivery date is 3 working days only.
NO MOQ
For heat transfer printing only.
FREE DESIGN
Simple design like texts or mix & match.
EXPRESS SERVICE
Available with a very reasonable fee.
HOW TO ORDER

FILL OUT THIS FORM TO GET QUOTATION FROM
RM 1.35 EACH

 (TERMS & CONDITIONS APPLY).
Looking for under 20pcs? Get your order done faster and easier with our NEW online customisation tool at www.Printcious.com